Stay Stylish and Warm: How to Choose a Dress for Your Winter Wedding
Winter weddings bring a unique and enchanting atmosphere. From the stunning venues to the romantic lighting, everything about a winter wedding is magical. And of course, a glamorous wedding dress is key to completing the picture-perfect winter look. When it comes to finding the ideal winter wedding gown, there are a few important factors to consider.

First and foremost, blending style and functionality is crucial. You want a dress that not only looks stunning but also keeps you warm. This leads us to the question: which fabrics are best suited for a winter wedding dress?
Fall in love with this gorgeous Half-Sleeves Lace Mermaid Plus Size Wedding Dress! With its romantic lace detail and flattering silhouette, you'll be ready to say I do in perfect style! Its light, winter-ready fabric keeps you comfortable and confident all day long. Best of all, it's designed to provide a stunning fit no matter your size! Make your special day extra special with this delightful dress.

It's essential to choose your fabrics wisely. Lightweight materials like chiffon may not offer sufficient protection against the chilly winter air. Instead, opt for heavier fabrics that will provide insulation and keep you warm throughout the day, especially if you'll be spending time outdoors. Fabrics such as moire, velvet, gabardine, and silk mikado are excellent choices. Additionally, many brides opt for wool to add an extra layer of coziness to their winter wedding attire.

It's important to ensure that the fabrics you choose are 100% natural. Artificial fabrics may add unnecessary weight to your dress, making it uncomfortable to wear. By selecting natural fabrics, you can maintain both warmth and comfort without compromising on style.
Fall in love with our stunning vintage wedding dresses! Graceful lace long sleeves and an exquisite mermaid silhouette guarantee a luxurious look and feel for your special day. Make a statement with our beautiful gowns and dazzle your guests!

Finding the perfect winter wedding gown should be a delightful journey. By selecting the right fabrics and prioritizing both style and functionality, you can ensure that you look and feel beautiful on your special day, no matter the weather.
Don't let the chilly weather dampen your style on your winter wedding day! While it may be tempting to sacrifice fashion for warmth, there are ways to stay stylish and cozy at the same time.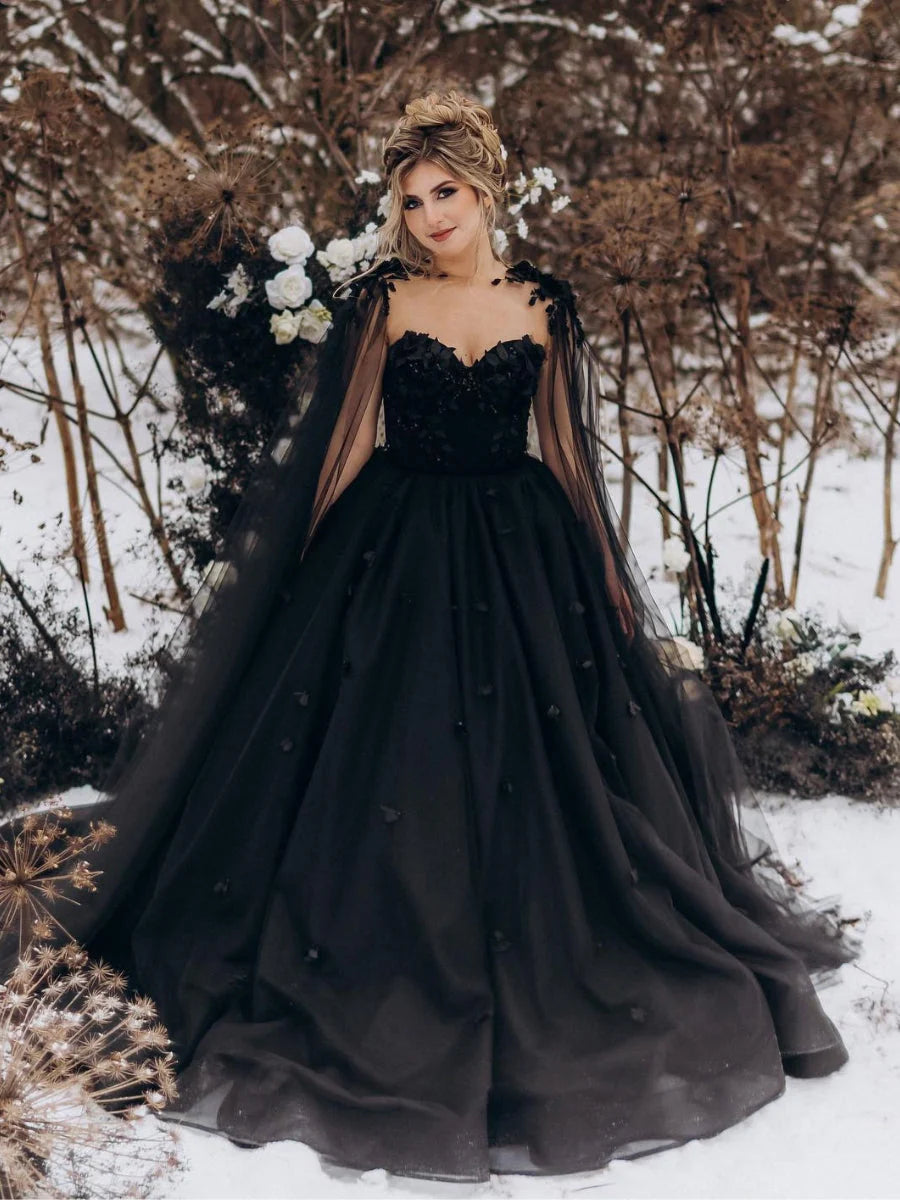 Feel like a true princess in this luxurious 3D flower black wedding dress with tulle sleeveless sweetheart ball gown design. Enjoy the perfect combination of romantic gothic beauty and femininity in this exquisite bridal gown, complete with a romantic cape. Be the belle of the ball and indulge in true royalty.

1. Embrace an Off-Shoulder Neckline:
For a glamorous look that still keeps you warm, opt for an off-shoulder neckline. Not only does this style showcase your collarbones, elongate your neck, and frame your face, but it can also be paired with long sleeves to ensure you stay comfortable during the ceremony. To add a touch of drama, consider adding a high slit to your gown, which not only enhances your overall look but also keeps the cold breeze at bay.
Feel like a shining star on your special day in our Sparkly Bling Bling Sequins Wedding Dress UK! Boasting a stunning off-shoulder silhouette and a swirl of glistening sequins, these sleeveless beauties will make you look your dazzling best. Experience a wedding day you will never forget!
2. Classy Outerwear:
If you prefer to show more skin while staying warm, invest in classy outerwear such as stylish jackets, gloves, and scarves. It's important to remember that your outerwear should always complement your gown, not overpower it. Choose outerwear that follows the style and aesthetic of your dress.
Look regal in this elegant Princess Long Sleeve Lace Long Wedding Dress! Crafted in beautiful winter lace, this stunning gown is perfect for a glamourous bridal look, with intricate detailing and long flowing sleeves. Make a statement in the perfect winter wedding dress that won't break the bank.

3. Go for Long Sleeves:
Long sleeves can dramatically transform your winter bridal look. Apart from providing warmth and comfort, they add a touch of elegance and sophistication. Look for dresses with elegant long or three-quarter-length sleeves to infuse glamour into your ensemble. Consider opting for larger dresses, such as ball gowns or full skirts, to complement the sleeves. A long-sleeved ball gown with layers of organza or tulle will make you feel like a regal princess while keeping you cozy throughout the celebrations.
This gorgeous Hot Long Sleeves Lace White Wedding Dress is perfect for your winter wedding! The V-neck and mermaid design ensures it's chic and stylish, perfect for the most important day of your life! Make your winter wedding a truly special occasion!
Don't let the cold weather dull your sense of style on your special day. By incorporating off-shoulder necklines, classy outerwear, and elegant long sleeves, you can create a winter wedding look that is both fashionable and comfortable. Remember, it's possible to stay warm while staying true to your personal style.
When it comes to dressing for a
winter wedding
, layering up is the ultimate defense against chilly temperatures. Whether your outfit of choice is a fitted dress or a flowing skirt, it's important to find stylish ways to keep warm without sacrificing style.
Layering Tips:
To keep your legs cozy while wearing a fitted dress, consider pairing it with leggings or tights. For those opting for a full skirt, don't hesitate to layer it with leggings or tights for added warmth.
Investing in additional layers for your arms and chest is essential for braving harsh weather. Stylish options include snug ponchos, furry shawls, cascading capes, and textured shrugs. For those who love to experiment, a leather jacket with an eye-catching bride inscription on the back can take your ensemble to the next level.
Perfecting Your Silhouette:
While it's tempting to focus on showing off skin, remember that fashion is ultimately about how you showcase it. A silhouette that exudes elegance can be just as breathtaking as a revealing back.
This beautiful A Line Lace Applique Long Sleeves High Neck Muslim Wedding Dress is the perfect way for a bride to make a memorable entrance. Featuring elegant long sleeves and high neck, this dress is crafted from incredibly soft and airy lace that will make you look truly radiant on your big day. Enchant your guests with this stunning dress!
When selecting a
winter wedding dress
, opt for higher necklines for a touch of sophistication. If you can't resist the allure of a cut-out back, look for gowns that blend this detail with long sleeves. To maintain a practical cover without sacrificing style, consider incorporating lace designs to reveal just the right amount of skin.
Dressing for a winter wedding requires careful consideration of both warmth and style. By layering up and paying attention to silhouette details, you can create a stunning winter ensemble that stands out while keeping you cozy. Embrace the elegance of winter fashion and make a statement on your special day.