The Top 6 Quinceanera Hairstyles To Match Your Quince Dress
Quinceanera is a celebration that symbolizes Latin girls who turn 15, and beautifully blossom and transform into women. This is the day that they have been dreaming about and picture themselves wearing voluminous dresses with matching Quinceanera hairstyles. Every girl wants to shine on her Quinceanera and besides picking out the best Quince dress, she also wants her hair to be perfect.
The Quinceanera hairstyles should match the dress. It is the day that the girl want to show off her best side with a fitting hairstyle that gives her confidence to conquer the celebration. The options for quince hairstyles are many, from braids, easy tucks to fancier ones and it can be rather daunting trying to choose the perfect style.
The Quinceanera party is an excellent occasion to choose something voluminous or unique or the princess look that they always dreamed about as little girls. So if you are celebrating Quinceanera soon and are looking for the best hairstyle that matches your Quinceanera dress, do read on.
Big Curls Loosely Tied
If you want a hairstyle that is simple and glam, then this one is it. This beautiful updo features big curls that are loosely tied at the back to create a stunning style.
Best Quinceanera gown that goes with this hairstyle is lace ball gown quinceanera dress with a cape.
Embellished Braid Crown
This Quinceanera hairstyle is for the girl who wants a style that allows most of her hair to be down and wavy, but it also incorporates a unique and fun twist to it. Having hair worn down for a quince is beautiful, especially when it has an embellished braid crown to add some texture to the hair. The standout element of this look is of course the braided crown low crown.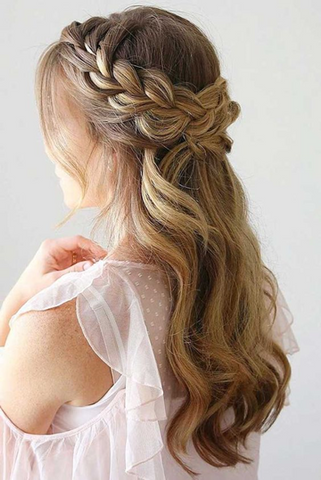 Best Quinceanera gown that goes with this hairstyle is a yellow lace long sleeve ball gown quinceanera dress with cutout shoulders.
Classic Hairstyle
This timeless look is beautiful and is the classic Quinceanera hairstyle that all of us knows and love. If you want a hairstyle that is going to stand the test of time, this is a beautiful option. Although it may be a classic, it is anything simple and boring! Put the hair up in a poufy updo and have the fringe cascade down the side of your face.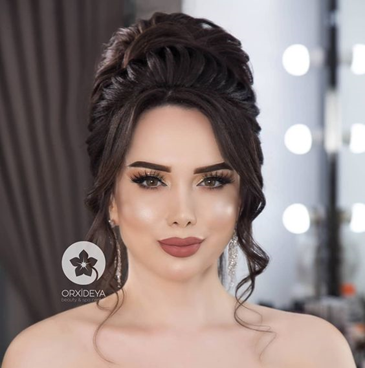 Best Quinceanera gown that is a perfect match with this glam hairstyle is the enchanting pink off shoulder quinceanera dress sweet 16 party gown with a foldover neckline.
Criss Cross Quinceanera Hairstyle
Here is another great way to rock a hairstyle where most of your hair is worn down in wavy curls. It has a fun twist at the top with a criss cross pattern. You can complete the look with a crown or flower embellishments. This is a curly Quinceanera hairstyle that is simply gorgeous!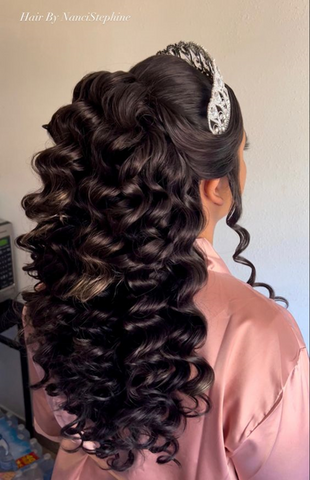 Best Quinceanera gown that goes well with this hairstyle is the sage quince dress that features an off shoulder style with 3D embellished florals. 
Flowering Braids
If you are looking for a bohemian type of hairstyle, then you would probably love this Quinceanera hairstyle. Curly hair down style gets a boho-vibe here when the half top is pulled together to create a braided flower look while the rest of the hair are undone. The flower design is the focal point of the hair.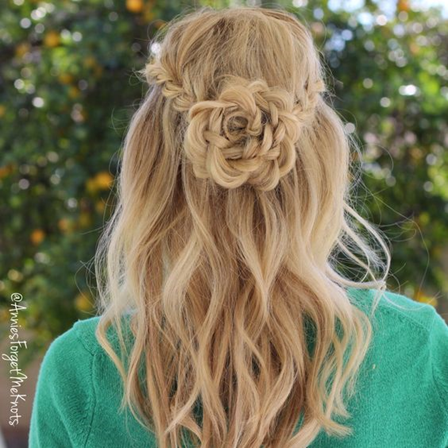 Best Quinceanera gown that matches this hairstyle is the sleeveless pink lace quince dress that features a jewel neckline and tulle skirt. 
Loose Waves Quinceanera Hairstyle
Want your hair in loose waves? Add a touch of glam with a Quinceanera crown. The hairstyle is very simple and easy to recreate. By adding a glam hair accessory to a curly hair is what makes this simple look more formal. The crown headband transforms the look without taking away from the gorgeous curls.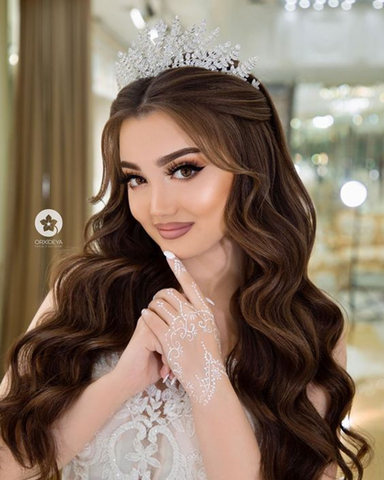 Best Quinceanera gown that perfectly matches this hairstyle is strapless blue quince dress ball gown that features hand-beaded details and layers of sophisticated 3D flowers.