Best Shapewear For Low Back Or Backless Wedding Dresses
Your wedding day is one of the most important days of your life. Every bride wants to look their absolute best on their wedding day. You want to make sure that you feel confident and gorgeous when your nuptial celebration arrives. Wearing shapewear underneath your wedding gown can help to boost your confidence and also help you feel your best when you finally tie the knot. That said, it can be rather challenging to find the best shapewear that is seamless underneath your wedding dress.
If you planning to wear a low back or backless wedding dress, you may want to read on to find some shapewear that can discreetly and efficiently smooth, lift and shape your body in all the right places on your big day. These shapewear pieces are comfortable and pair well with various wedding dress styles.
Bridal Shapewear For Backless or Low Back Wedding Dress
One of the biggest concerns women have about buying a backless wedding gown is that they do not feel supported. Well, ahead are some amazing shapewear options to wear under your backless wedding dress.
The backless bodysuit is an amazing garment ever invented.  It is the solution to all of your wedding dress woes. It has a deep V-neckline in front to accommodate different wedding dress styles. The double layer mesh on the midsection offers strengthening tummy control. It is also cut into a thong so that you cannot see panty lines through your wedding dress. The best part is that it sucks in your tummy and makes you feel incredible on your wedding dress! The straps are adjustable and removable to make the bodysuit strapless. Available in black and nude.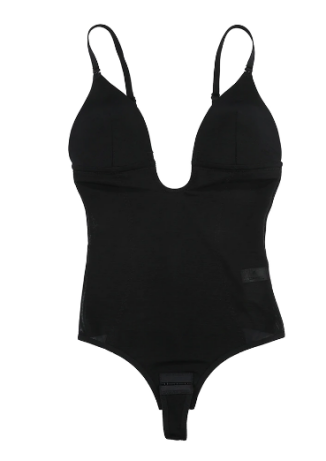 This plunge low back thong bodysuit is perfect for this gorgeous V-neck, low back lace mermaid wedding dress.
These lace trim shaping panties or briefs from Waistdear.com double as both effective shapewear and sexy lingerie.  They are also a great option for a variety of dresses where you cannot wear anything too high-waisted under your gown. They still offer the tummy control that you are looking for and the delicate lace will prevent panty lines from showing through your dress.
 You can choose this lace panty shaper if you are wearing a wedding gown like this simple long sleeve wedding gown featuring a jewel neckline and a low V-back.
The panty shaper is also great to be worn underneath a wedding gown like this lace sweetheart neckline dress featuring a mesmerizing illusion low back and mermaid silhouette.
For those looking for a very supportive undergarment, this U-shape backless bodysuit from Lover-Beauty.com has tons of support and coverage. It has removable straps on the front for extra support.  The 2 see-through straps are adjustable and it has a plunging design that is great for a wedding gown that has a plunging front as well.
This U-shape bodysuit works well for a wedding dress like this deep V-neck sleeveless gown that features a low back with straps.
The next article: